SIDLER HAS A BRAND NEW HEAD OFFICE AND FACTORY!
SIDLER BUILT A BRAND NEW HEAD OFFICE AND FACTORY LOCATION IN SWITZERLAND!
We at SIDLER are proud to introduce you to our new Swiss head office and factory, which is the Swiss European facet of our company called SIDLER Metallwaren AG.
The erection of a new office and factory enables SIDLER® International Ltd. in North America to be able to continue to provide high caliber customer service and high-quality craftsmanship of our Swiss made mirrored cabinet collections to our customers.
SIDLER Metallwaren AG (also known as SIDLER Swiss) in Switzerland is the Swiss European head office of North America's SIDLER® International Ltd. was founded by Otto Sidler in 1964. The company began their business endeavours in the manufacturing of lighting fixtures and semi-finished products and then later evolved into the production of lighted mirrored cabinets.
In the past 60 years of its induction, SIDLER Swiss and its North American counterpart, SIDLER® International Ltd. has become one of the leading mirrored cabinet manufacturers in Europe and in North America. In addition, SIDLER is also a competent and reliable supplier to the lighting industry as the company objective has always been focused on high-quality craftsmanship, technology, functionality, and innovative and modern design.
In keeping with the main objectives and goals of SIDLER, the company decided to expand and continue to improve its already existing production quality and efficiency. Therefore, in February 2022, the construction of a brand new head office and factory in Switzerland began. The architectural planning, building of the new head office and factory was developed under the direction of MLR Baumanagement GmbH together with Stauffacher-Aemisegger.
SIDLER Metallwaren AG celebrated the start of construction of the new building where members of the SIDLER Swiss Board of Directors, the SIDLER Swiss management team, the construction project manager and architect gathered together in a ceremony with spades and wearing construction hats. This ceremony marked the official start of construction work on the new SIDLER headquarters.
The purpose of the building of a new head office and factory achieves a number of goals in order to continue to provide the utmost high-caliber and high-quality product, and a positive consumer experience.
We will explore how and what is achieved with an improved base of operations below.
IMPLEMENTATION OF INNOVATIVE MANUFACTURING TECHNOLOGY AND IMPROVED WORKFLOWS
The new building will meet the new demands of the market and environment, and further improve upon employee work structure, workflow and procedures such as; efficiency, expediency, and quality control production. In addition, an investment will also be made to expand further with the building of a new powder coating plant.
With the new building, particular attention can be paid to the logistical processes where procedures will be even more efficiently scrutinized and analyzed.. Also, the processes as it pertains to production, assembly and logistics have been revised for further improvements and efficiency. The goal is to implement even more optimal processes and procedures in the production line in a more cohesive manner in order to continue to produce the high-quality lighted mirrored cabinet products that SIDLER is known for.
BUSINESS DEVELOPMENT, GROWTH AND IMPROVED EMPLOYEE PRODUCTIVITY
In addition to these technical and workflow aspects, it was important for the new generation of management to be able to pursue business development goals even more efficiently and effectively to create growth and brand awareness.
Also, another goal of more efficient and improved working conditions for all employees is supplemented with these new operating facilities. This is done with the creation of an office and factory space with larger, more open workspaces, which implements a more organized production, building and assembly line. Add to this, the creating of a more user friendly, modern and bright workspaces and the optimizing of workflows; reflects the spirit of the new third generation of management and employees at SIDLER Swiss..
IN-HOUSE SHOWROOM STUDIO AND EXHIBITION AREA
Another goal of the new office location and factory is to create an in-house showroom studio or exhibition area to showcase the entire SIDLER collection of mirrored cabinets. The purpose of this serves to the further goals of business development, growth, provide product knowledge and promote brand awareness. The in-house exhibition area is where external visitors and interested parties can be invited to view and review the latest SIDLER products and lighting technologies on full display.
In the future planning stages, the inauguration of this exhibition space will be showcased in an 'open to all visitors or interested parties' grand opening as well as, offering a building tour through the factory/plant including the production area.
Let's explore all the steps in the construction process the new SIDLER Swiss head office and factory!
STEP ONE? The excavation!
STEP TWO? Laying down the foundation!
STEP THREE? Building the structure!
STEP FOUR? Up goes the roof and the walls!
STEP FIVE? More walls go up and windows installed!
STEP SIX? Underground parking and basement almost done!
STEP SEVEN? LED interior ceiling lights are installed!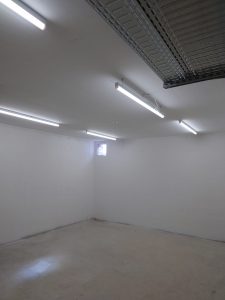 STEP EIGHT? The new warehouse is finally being built and almost done!
STEP NINE? The building is almost finished and ready to move into soon!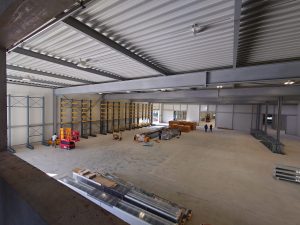 STEP TEN? The building is complete but needs finishing touches such as laying down the asphalt!
STEP ELEVEN? Moving the equipment into the factory!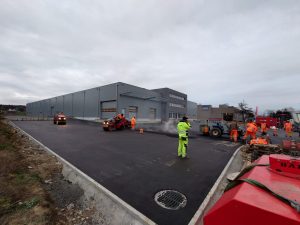 STEP TWELVE? All Moved in and getting settled!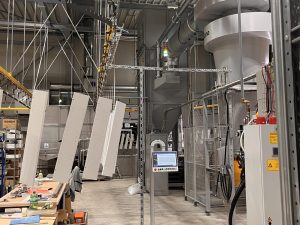 Following approximately 10 months of construction, the new Swiss head office and factory had completed its construction in November of 2022. And in the beginning of 2023, approximately 50-60 employees had all moved in ready and excited for the continued production of the high-quality mirrored cabinets SIDLER is known for under this new 'roof of continued innovation and growth'.
SIDLER Swiss and SIDLER® International Ltd. are looking towards a continued bright present and future with a new and improved Swiss head office location!