SIDLER Launches NEW Electric Cabinet With Unbeatable Features!
Content re-written by Sally Mark, Marketing and Communications Manager – August 25, 2020
SIDLER launches and introduces the NEW Electric Modello Mirrored Cabinet!
We have new and exciting news!  Our Sidler Modello Cabinets are UL Certified and fully in-stock.
This is a 'design your own' customizable cabinet!
SIDLER®'s Modello features an enhanced anodized aluminum body including a mirrored back.  The  Modello is the standard cabinet where it can be customized your own way by using the 'Custom Cabinet Creator' located on SIDLER ®'s website.
The foundation of this cabinet includes Blum® soft-close hinges, SilverLasting™ double-sided mirror door, distortion-free mirrors and adjustable glass shelves.  Adjust the height, width, depth, door configuration and add an electrical outlet to your Modello cabinet.
Best of all, this creative and versatile innovation from SIDLER® starts at an affordable price.
Let's dive into all the details of this new mirrored cabinet!
Modello cabinets are beautifully designed with anodized aluminum finish. All sizes include a mirrored back and of course our famous distortion-free double-sided door.
Sidler's Most Versatile Collection
Swiss Design at its Very Best
Customize Your Modello
Highlighted Features :
Double-sided Mirror Doors
Anodized Aluminum Body
Mirror Interior
Blum Soft-close Hinges
Electrical Outlet *NEW* UL Certified and more.
SilverLasting Mirror Doors
Sidler Modello Outlet
SIDLER BLUM Soft Close
Mirrored Back
Anodized Aluminum Body
You must try our custom cabinet creator! with new Add-ons such as Sidler Handle and Electrical Outlet – it is not just a cool game to play but rather a functional tool to create your customized Modello. (see below for User Interface of Configurator)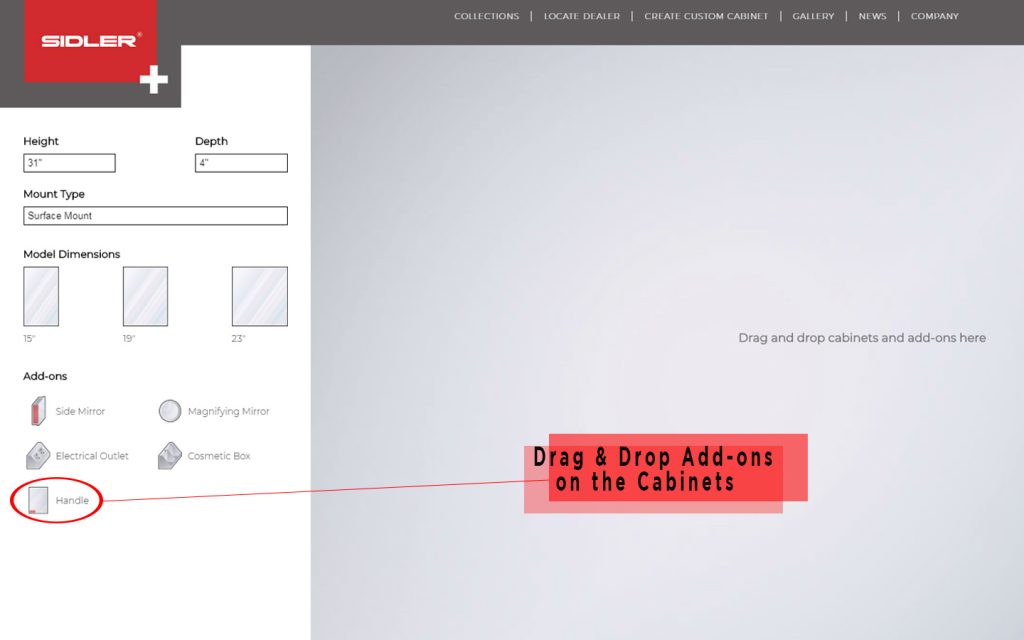 Adding the add-ons is simple:  drag and drop the icons, that corresponds to the feature you would like to add, on top your cabinet.  You will also notice the price will change on the total section (bottom left of configurator). Canadian and American currencies are available.
See below for 'User Interface of Configurator' with the addition of Aluminum Handle.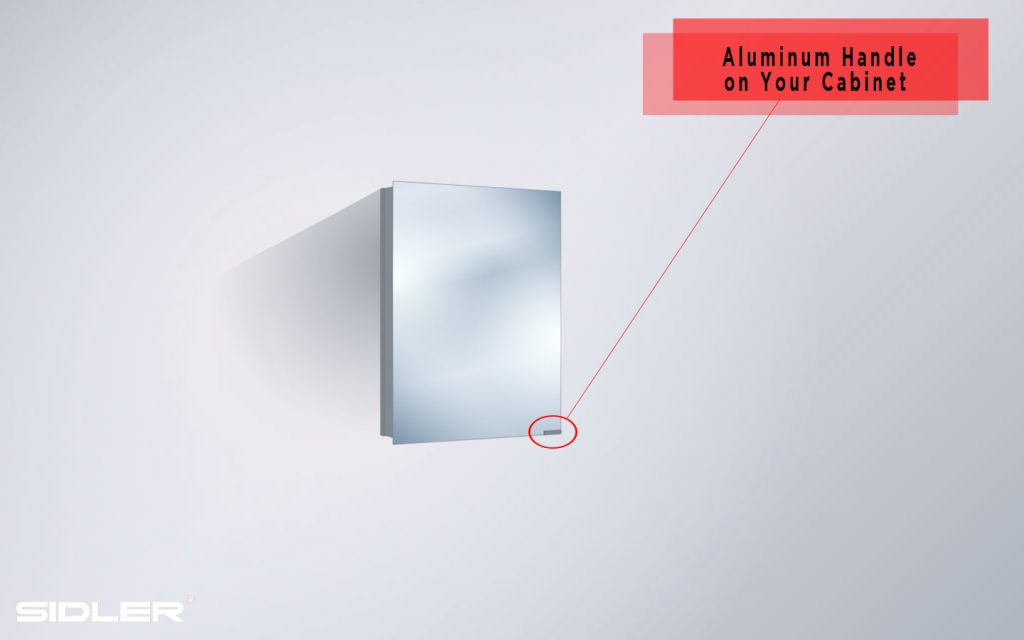 Electric Modello
You can now drag and drop the electrical outlet into the cabinet and the configurator will correspond with that functionality. Upon the initial launch of the Modello Cabinet Creator, we revealed the demo for the electrical outlet option, and it was a huge success!
Fast forward to today…. the Modello electric cabinets are officially available and in-stock (see image below for Electrical Outlet Option).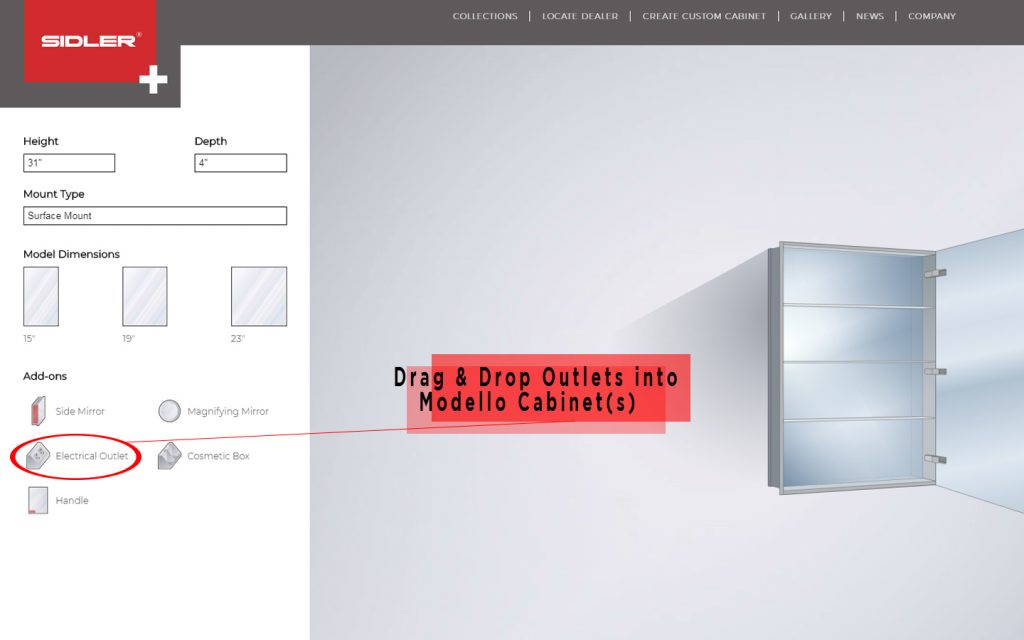 You will no longer have to specify between Right or Left Door Configuration as the MODELLO Collection contains hinge locations on both sides; thus a separate SKU is not required.
with our online cabinet creator, you can play around with the functioning icons in order to OPEN/CLOSE the cabinet as well as changing door opening (see image below).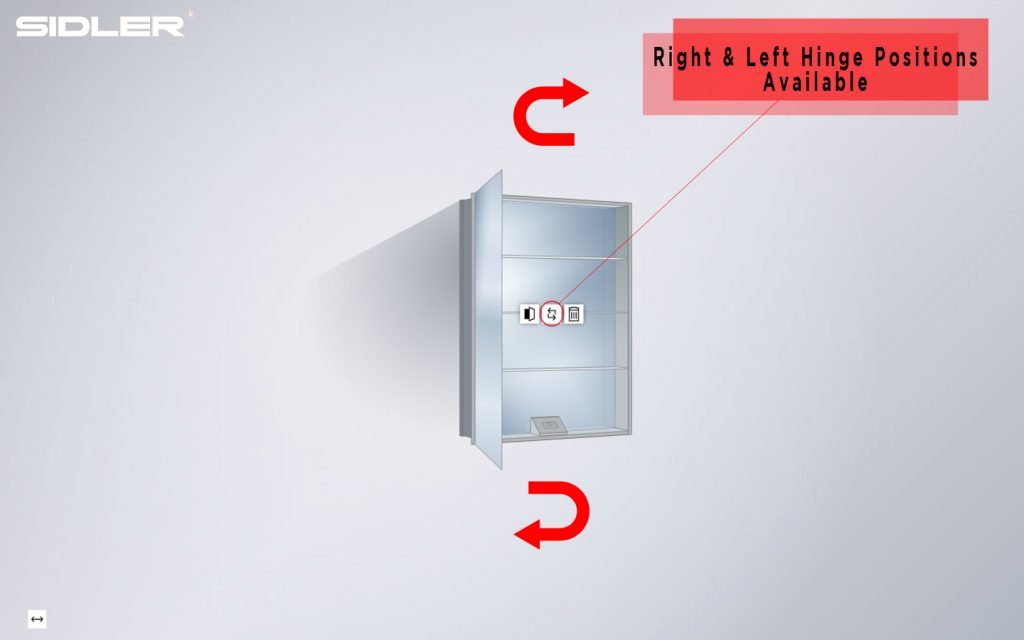 We will work hard to bring your exceptional service and products.  We hope you like this cabinet which starts at the unbeatable 499$ – Contact your Local Sidler Dealer Today,
https://www.youtube.com/watch?v=5HPpqqCdFOw
Find out more about UL Certification by clicking on the UL icon below:
"UL helps companies demonstrate safety, confirm compliance, enhance sustainability, manage transparency, deliver quality and performance, strengthen security, protect brand reputation".