LED Cabinets – Lighting, Mirrors, Bathroom Accessories, LEED Certification
Let's talk FACTS!!
It is no secret that LED lighting is not just the future, but rather the present.
The fact that you can get 50,000 hours of light via this energy efficient source should come as no surprise.
We love to compare lighting sources.  Let's start with with Fluorescent light compared to LED lamp.  For every fluorescent light that lasts 8,000 hours, an LED Lamp will omit light for 25,000 hours.
Saving Money makes everyone happy, and also in doing so you can do something to benefit the environment.
We love the LEED Certification, which focuses on creating and designing environmentally conscious buildings.  Transitioning to more environmentally conscious design is an easy, seamless change, which takes little time and effort.
How easily can this be done?  Metal can be recycled and LED lamps can be installed.  And invest in a SIDLER mirrored cabinet for your bathroom renovation, and be rest assured you receiving a high quality, environmentally friendly product.
Find out more about lighting and the impact you can have in positively preserving our environment by implementing  a 'green' initiative at Earth LED.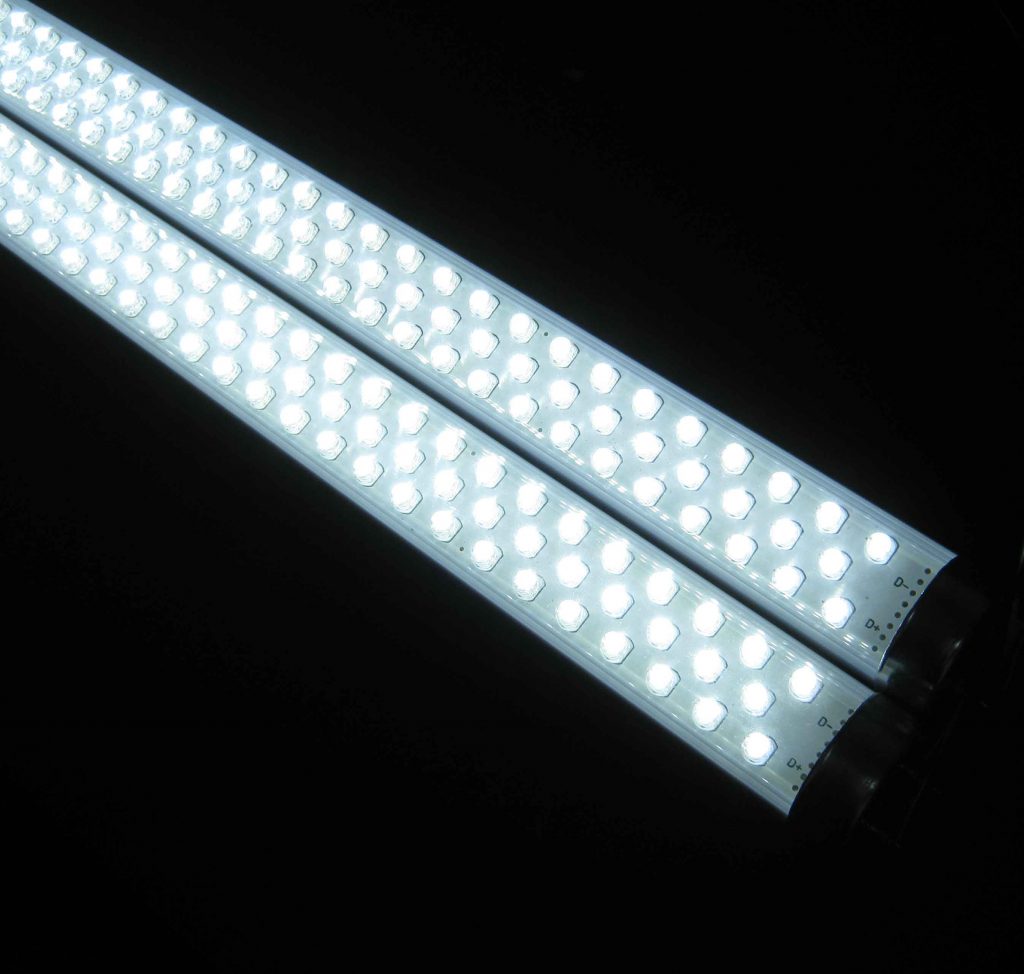 Lets observe this picture above  of basic LED lighting!  Do you see how this light is dots?
I am sure you have seen this before and are not the biggest fan of this.
Seamless White LED light is what SIDLER provides and I think it should be the standard.
Here is an example:
Looking at SIDLER's LED Collection or any of our other collections with LED lighting; it has a seamless look plus high quality illumination where
you will Notice a HUGE DIFFERENCE!!
Here is a great source!  Go to LED World  and see what you are missing.
No more spot lighting!
Seamless is so much better!
How does this all tie into SIDLER?
We Just launched our New LED Video!
The LED Collection is Beautiful and a functional storage piece.
In addition, the recessed contemporary design provides a clean finish to any bathroom with the bonus of being surface mountable as well.
This is not your typical medicine cabinet but I will say no more.  Watch the video and enjoy!
Features of SIDLER's LED Collection:
Seamless LED Light
Dimmable 1 – 10V
Integrated Lighting System
Concealed, BLUM Soft-close Hinges
Patented Shelf Adjustment System
SilverLasting Double-Sided Mirror Door
Mirrored Interior
Built-in Outlets
Functional Storage Space
Anodized Aluminum
Magnifying Mirror (2.5 Times)
Cosmetic Box
Understated Aluminum Handles
Options:
Side Mirror Kit for Surface Mounting
Find out more here: https://sidler-international.com/collections/led/