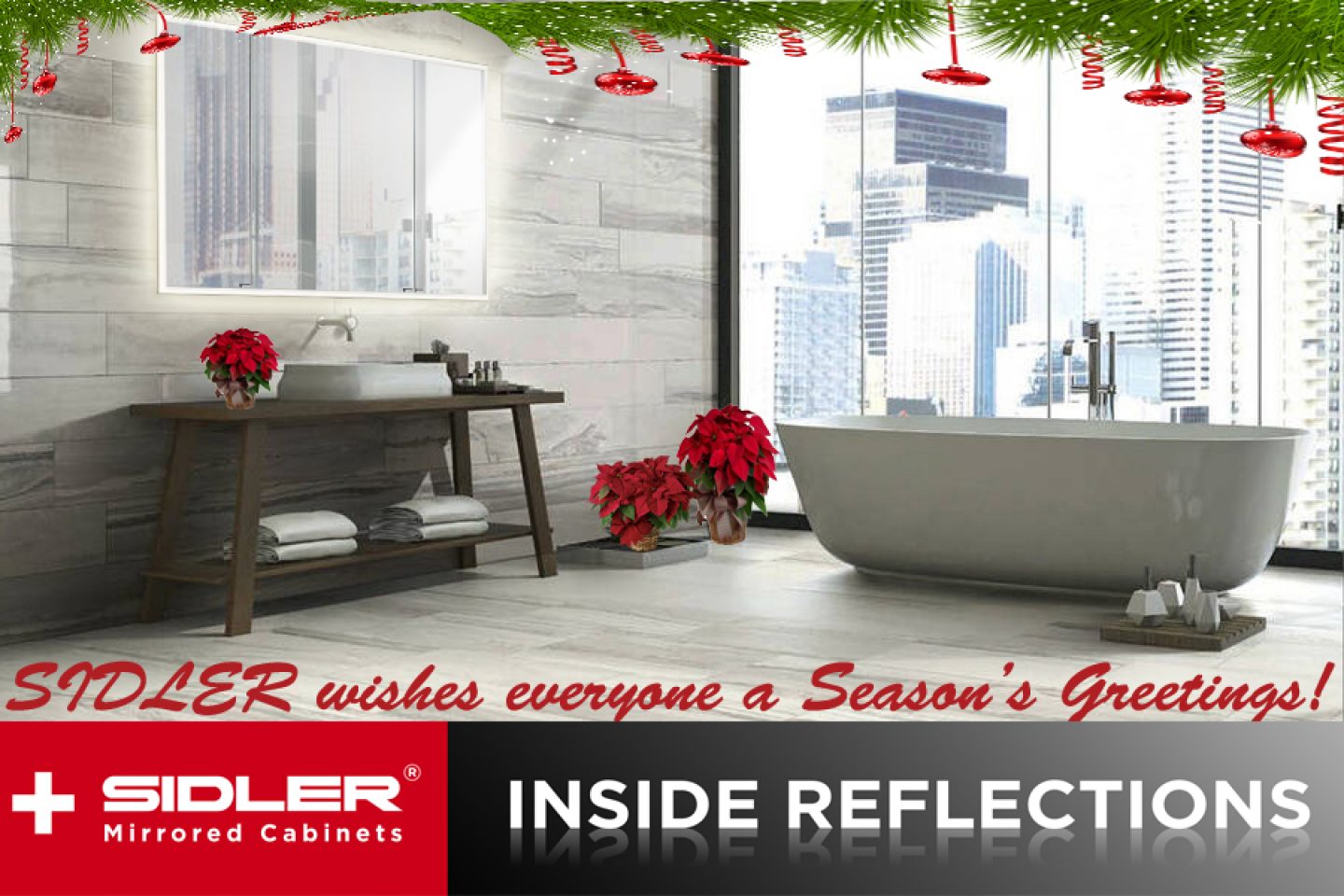 December 2020-SIDLER, INSIDE REFLECTIONS – Seasons Greetings! What are the Bathroom Design Trends for 2021?
Season's Greetings from SIDLER!
What are the Bathroom Design Trends for 2021?
Let's take a look at the upcoming bathroom design trends for the new year from the experts. 
Before we jump into looking at the exciting 2021 bathroom design trends, we first want to wish everyone a Season's Greetings and a Happy Holidays for 2020!  We know this year has been met with so many trials and tribulations for each and everyone one of us due to the COVID-19 pandemic.  But, we hope the Christmas season can at least bring some light and joy in the midst of all this and with hopeful wishes for a brighter, calmer new year.
So without further ado, we will take you on a journey into what will be trending for bathroom design in 2021.  And to help us start this journey, SIDLER has been honoured to have two award winning Interior Designers provide their expertise and insight into this. 
We will look at the bathroom design trends across North America from both an American perspective, and also from a Canadian perspective.
So, let's get started!
American Insight: Top 5 Bathroom Design Trends in 2021
By Jhoiey Ramirez – Studio Jhoiey Inc.
MULTI-FUNCTIONAL:
Practical and multi-functionality in 2021 is a key design element to making a bathroom both enjoyable and efficient.
Find ways to make dual use of space by recessing mirrored medicine cabinets in niches with features such as, mirrored cabinet doors and adjustable shelving.  Optimize lighting in a bathroom by going full throttle with the mirrored cabinet functionally by using lit mirrored cabinets.
Also, there is a trend towards adding a wet room where shower, tub and steam is all centrally located.  These are just a few ways to maximize space and layer the functionality of it.  It's not a new concept but there are certainly new ways to achieve this to showcase a better aesthetic than just merely function.  More functionality comes with hiding the TV behind a mirror or another 2021 trend will see the bathroom function as a small mediation/yoga area doubling as an infrared sauna space.
TEXTURE AND DIMENSION:
Adding texture and dimensionality is another key element in bathroom design trends for 2021.  There are a multitude of ways to achieve this such as, using a textured tile, adding steps and niches, and having different surfaces adds to visual interest creating an illusion of more space.
The other way to add texture and dimension is using imperfect colours.  Even though, 2021 is seeing a trend toward more relaxing colours; rich and bold colours combinations are still a sought after design element.  But, the best way to utilize these bold colours is by installing a colour variation of large sized tiles in a rich and bold colour.  Offsetting different colour variations vs. incorporating tile colours that are perfectly matched flattens the design aesthetic.  So, the use of multiple shades in the tile application of the same colour creates a richer and more approachable…..